Welcome to Moraga
A quiet and peaceful suburb outside San Francisco, Moraga is ranked by Niche as the #1 Best Place to Live in Contra Costa County. Due to its fantastic public schools, ample greenery, and calm atmosphere, Moraga is a fantastic place to raise a family in close proximity to major cities.
Not far from Berkeley, Moraga was originally a stop along the Sacramento Northern Railroad before opening its first post office in 1886. It was officially incorporated in 1974, combining together the communities of Moraga Town, Rheem, and Rheem Valley. Today, the town is known for its excellent schools and beautiful nature.
Homes for sale in Moraga are more affordable than in Lafayette or Orinda, yet still in close proximity to the California Distinguished Schools and a commuting distance from San Francisco, Oakland, and Walnut Creek. Homes in this area range from sprawling California ranch-style houses to contemporary estates overlooking the towering Moraga Hills.
What to Love

Small-town charm

Lots of community programs and activities

Views of Moraga Hills and Mt. Diablo

Convenient location near Walnut Creek, Berkeley, San Francisco, and Oakland



People & Lifestyle
The smallest of Lamorinda's three towns, Moraga is a little quieter and more rural due to its location further from the freeway and BART line. Nevertheless, Moraga remains a laid-back and beautiful area to call home.
Thanks to a great school system and plenty of educational opportunities, Moraga is a wonderful place to raise a family. There are lots of beautiful outdoor spaces to walk, hike, or bike, and local schools put a prominent focus on sports, whether they're extracurricular or team-based. Because of its relaxing atmosphere, Moraga is also popular with retirees.
Where is Moraga?
Moraga is a suburban town located in Contra Costa County, California, United States. Nestled in the beautiful hills of the San Francisco Bay Area, it offers a picturesque setting and is part of the region known as Lamorinda, which includes the neighboring cities of Lafayette and Orinda.


Map of Moraga, CA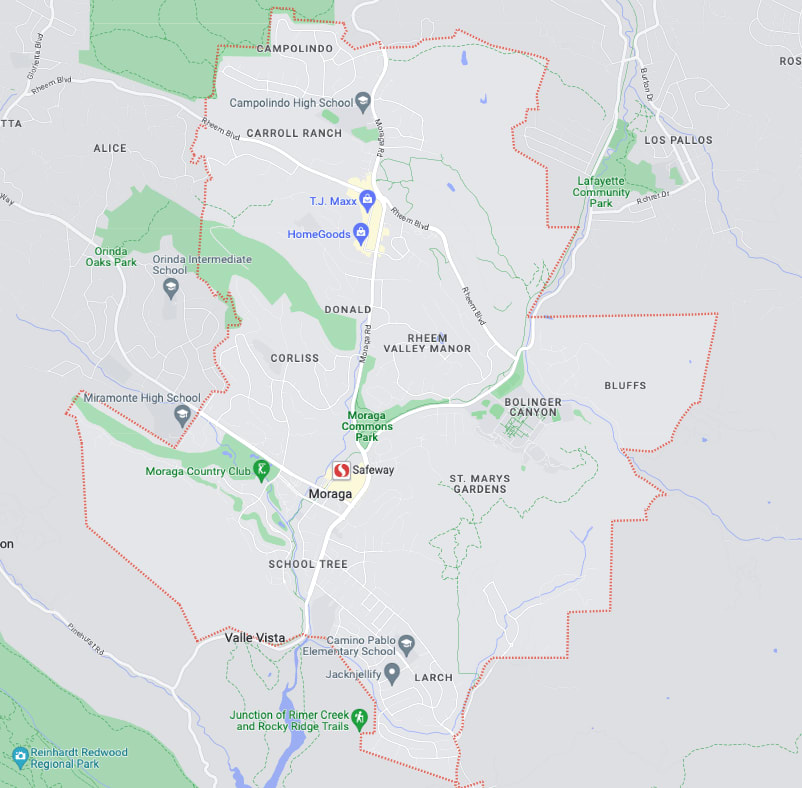 About Downtown Moraga
1. Things to Do
Engage in Cultural Activities: The Town Hall Theater, library, and other cultural hotspots are within walking distance in some areas of Moraga, offering a plethora of cultural and learning experiences[6].
Explore Hidden Gems: While detailed specifics weren't available, there seems to be a suggestion that like many quiet towns, Moraga has its own hidden treasures awaiting discovery by keen explorers[4].
Visit Art Galleries and Museums: Though specific names are not provided, Moraga seems to have options for those interested in art and history[3].
2. Places to Shop
Various Shopping Spots: Several shopping locations such as TJ Maxx, HomeGoods, and Rheem Valley Shopping Center provide ample shopping opportunities[1].
Consignment and Thrift Shopping: Options like Designs 2 Consign and Goodwill offer opportunities for sustainable shopping and potential bargains[1].
How far is Moraga from San Francisco?
Moraga is approximately 18 miles east of San Francisco. Depending on the mode of transportation and the route taken, the journey between the two locations can take anywhere from 30 minutes to an hour. Traffic conditions and roadworks can also affect the travel time.
How do you get to Moraga from San Francisco?
There are several ways to travel from San Francisco to Moraga:
By Car: The most common way to get to Moraga is by car. You can take I-580 East and CA-24 East, following the signs to Moraga. The journey typically takes around 30-40 minutes, depending on traffic.

By Public Transit: You can take the Bay Area Rapid Transit (BART) system to the Lafayette or Orinda stations, both of which are nearby. From there, you can catch a County Connection bus that will take you to Moraga. The entire trip may take around an hour or slightly more.

By Bike or Foot: For the more adventurous, there are bike paths and trails connecting San Francisco to Moraga, though it's a considerable distance and may require proper planning.

Ride-Sharing Services: Companies like Uber and Lyft also operate in the area and can provide a convenient ride to Moraga.
Always check the latest transportation schedules and road conditions before embarking on your journey to ensure a smooth and safe trip.
Dining, Entertainment & Shopping
While Moraga is a quiet town not necessarily known for its nightlife, there are still opportunities to enjoy exciting restaurants and shops around the area. It's also just a short drive from Orinda, Lafayette, and Walnut Creek for further fun activities.
Residents can enjoy amenities at the prestigious Moraga Country Club, a combined country club and homeowners' association that includes a beautiful 18-hole golf course, tennis facilities, pool and swim team, and recently renovated clubhouse.
There are several great spots to grab a bite to eat in downtown Moraga. Several restaurants are located in Rheem Valley Shopping Center, including Japanese-inspired eatery Noodle Theory, cozy Italian bistro and bar Ristorante Amoroma, and traditional Chinese spot China Moon. There's also Chef Chao Restaurant, a local favorite serving Sichuan and Mandarin cuisine.
Things to Do
Located in the heart of East Bay, Moraga provides plenty of fun local events to foster a sense of community. Take a walk along one of Moraga's picturesque trails or get to know your neighbors at an annual celebration.
Sporting events are popular in Moraga; the local Campolindo High School is home to the renowned Soda Aquatic Center, which features an Olympic-sized competition pool that's considered one of the fastest pools in the country. Alumni have gone on to compete in the Olympics, including 11-time medalist Matt Biondi. Dedicated athletes train year-round at this facility. Campolindo also boasts an incredible football team that has won two state titles in the past few years.
Moraga is home to a variety of beautiful parks, including Moraga Commons Park, which features a bandshell for entertaining performances, picnic areas to enjoy with your family, and multiple kid-friendly playgrounds. There's also the historic town-owned Hacienda de las Flores, a romantic Spanish-style estate featuring gardens and stunning palm and blue atlas trees.
Schools
Moraga is zoned to the Moraga School District, which includes several elementary schools, Joaquin Moraga Intermediate School, and the nationally-ranked Campolindo High School. Campolindo excels in athletics but is also known for its academics.
Moraga is also home to St. Mary's College, which was tied for 9th in the U.S. News & World Report's Regional Universities (West) rankings in 2017.
Nearby Neighborhoods
If you enjoy Moraga's relaxed, suburban feel, you should check out real estate in Orinda, Walnut Creek, and Pleasant Hill. We also have stunning houses for sale in Lafayette, one of Contra Costa's most beautiful and lively communities.


Sources